Inspiring Minds seeks to broaden awareness and impact of graduate student research, while enhancing transferable skills. Students were challenged to describe their research, scholarship or creative activity in 150 or fewer words to share with our community.
<hr />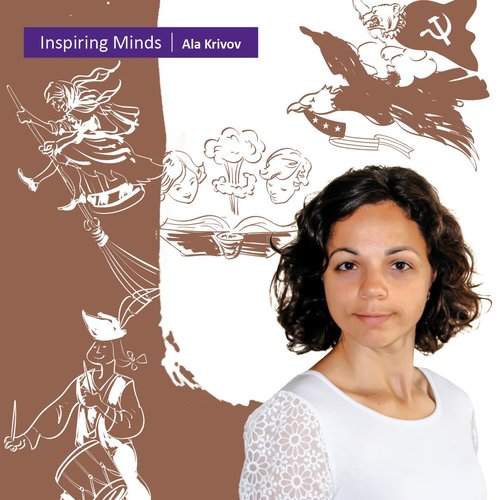 Yankee Doodle, Baba Yaga, and Politic: Nursery Rhymes during the Cold War
Nursery rhymes have been a cornerstone of children's cultures for at least twelve thousand years. For centuries, nursery rhymes have been helping children navigate the everyday world and find meaning in behavioral norms. Some of these rhymes are sung on schoolyards today and are still greatly loved by children. Over the period of the Cold War, however, cultural understandings of parenting have changed, and centuries-old folklore heritage of childhood had to grapple with modern understandings of what being a good parent means. My research explores the function of nursery rhymes during the 1950s in the two competing superpowers – the USA and the USSR. The same songs are still being transmitted, but often they are employed by parents as a tool of inculturation. The way in which the transmission occurs and how it relates to prominent ideological values, provides us yet with another glimpse into the so called "age of anxiety."
Ala Krivov
PhD candidate, Music
Don Wright Faculty of Music - Western University
Supervisor
Emily Ansari


<br><br /><hr />
Ala Krivov is a PhD student in Musicology at Western University. She completed her bachelor's degree in Choral Conducting in Minsk, Belarus, and master's degree in Religion and Music at Yale University. Ala is interested in children's music, particularly in nursery rhymes' ability to convey and ideologically influence the future generations of all social standings. Her dissertation explores the function of nursery rhymes during the period of the Cold War in the USA and the USSR and examines the ways in which individuals engaged with the existing artforms, as well as with those imaginative mediums developed in response to the ideological and political tensions between the two superpowers. Her other interests include media theory and human bodies as technologies of sound, and application of trauma theory scholarship for the study of musical experiences and works.
You can connect with Ala on LinkedIn: https://www.linkedin.com/in/alakrivov/
View Ala's work as it appears in the Inspiring Minds Digital Collection: https://ir.lib.uwo.ca/inspiringminds/350/