Inspiring Minds seeks to broaden awareness and impact of graduate student research, while enhancing transferable skills. Students were challenged to describe their research, scholarship or creative activity in 150 or fewer words to share with our community.
<hr />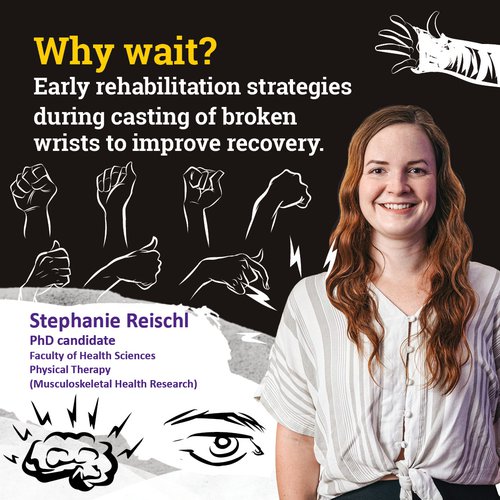 <br>
Broken wrists require weeks of physical therapy to recover from the losses of strength and range of motion that comes with keeping the arm still during casting. Standard care is to start rehabilitation interventions after the cast is removed. Instead, I'm interested in using strategies that don't require physical movement, to start treatment earlier. To do this I will be implementing in-home nerve stimulation and mental rehearsal interventions while the wrist is still casted. The goal is to shorten reduce the losses of strength and range of motion from immobilizing the wrist and shorten recovery time. This study will produce early treatment strategies to improve care for the large number of people who break their wrists. Once developed these early treatment strategies can be adapted for other patient populations requiring immobilization.
Stephanie Reischl
PhD candidate, Physical Therapy (Musculoskeletal Health Research)
Faculty of Health Sciences - Western University
Supervisor
Joy C. MacDermid
<br /><br/><hr />
Steph is in the combined MPT/PhD program at Western, and is currently in her first year of the Master of Physical Therapy, and third year of her PhD in Health and Rehabilitation Sciences program. She is a Bone and Joint Institute trainee where she is co-chair of the Trainee Leadership Committee, and working towards her Collaborative Specialization in Musculoskeletal Health Research. Prior to coming to Western, she completed her BSc in Neuroscience and her MSc in Applied Health Sciences. It was in these programs that she developed her understanding of the nervous system and the control of movement. She came to Western for the combined program to apply this knowledge in a rehabilitation context. Her PhD work explores an early physical therapy program for wrist fractures that is done while the bone is healing in a cast. This program is focused on targeting the nervous system to maintain the integrity of the neural pathways used for movement, and prevent losses in motor function during the lengthy casting period.
If you want to take a look at the research that Stephanie is currently working on, in addition to learning about the work conducted by her laboratory colleagues, please visit the Hand and Upper Limb Centre Research – Clinical Research Trainees.
View Stephanie's work as it appears in the Inspiring Minds Digital Collection: https://ir.lib.uwo.ca/inspiringminds/129/