Inspiring Minds seeks to broaden awareness and impact of graduate student research, while enhancing transferable skills. Students were challenged to describe their research, scholarship or creative activity in 150 or fewer words to share with our community.
<hr/>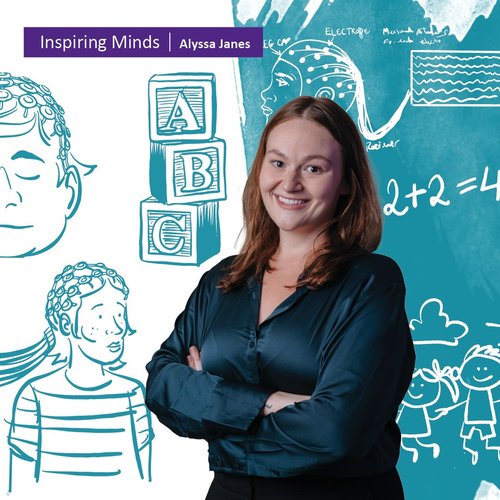 What If We Could Predict Language Abilities in Children?
The brain's electrical response to sound can be captured as a waveform called an auditory evoked potential (AEP). Much like language development, this waveform matures as we age. A new index, called AEP-Age, has shown success in predicting "auditory brain age" of school-age children. Children are asked to sit silently for 5 minutes and listen to multiple short beeps, during which time their brain's electrical response to sound (i.e., AEPs) is being recorded. AEP-Age is assigned by comparing one child's waveform to the averaged waveform of different age-groups. It was recently discovered that AEP-Age can predict language skills in school-age children. The first three years of life are a particularly intense period of language development; therefore, I plan to examine this relationship in children 1-4 years old. We hope to determine whether AEP-Age could predict risk of atypical language development when (or even before) children are late to talk.
Alyssa Janes
PhD candidate, Health and Rehabilitation Sciences
Faculty of Health Sciences - Western University
Supervisor
Janis Cardy
<br/><br/><hr/>
Alyssa is completing her combined MCISc/PhD in Health and Rehabilitation Sciences (Speech and Language Science) supervised by Dr. Janis Cardy. She previously completed her HBSc in Life Sciences with a minor in Linguistics at McMaster University before attaining her MSc in Health and Rehabilitation Science at Western. For her doctoral thesis, Alyssa is using EEG to explore the relationship between neurological response to sound and language development in children aged 1-5 years.
You can connect with Alyssa on LinkedIn: https://www.linkedin.com/in/alyssa-janes-09420b174/, and through email: ajanes5@uwo.ca. 
View Alyssa's work as it appears in the Inspiring Minds Digital Collection: https://ir.lib.uwo.ca/inspiringminds/262/.