Inspiring Minds seeks to broaden awareness and impact of graduate student research, while enhancing transferable skills. Students were challenged to describe their research, scholarship or creative activity in 150 or fewer words to share with our community.
<hr />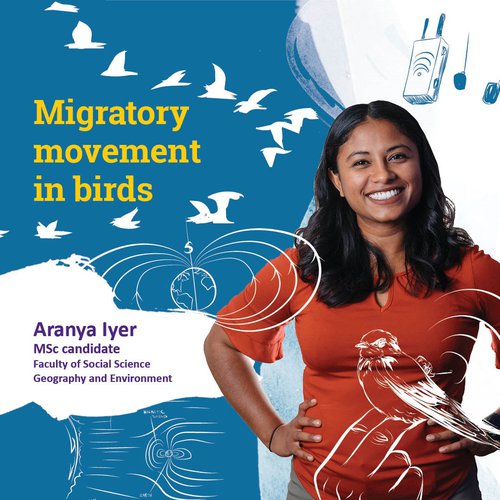 <br><br><br>
I never thought that the answer to "Where am I going to use math again?" would be to understand how birds make decisions. Bird migrations are a formidable scientific challenge because of missing puzzle pieces such as, "How do birds make decisions to get from Alaska to Argentina?" One possibility could be the Earth's magnetic field. This invisible shield around Earth not only protects us from solar radiation but it could also double as a navigation cue for birds. My research examines this relationship. I first connect geomagnetic data to bird movement data. Then I use this fused dataset to build mathematical models. My goal is to understand how birds integrate geomagnetic and other cues (like habitat and wind) to make migratory decisions. My work will unravel a part of the mysterious process that occurs as birds take to the skies to migrate hundreds of kilometers each year.
Aranya Iyer
MSc candidate, Geography and Environment
Faculty of Social Science - Western University
Supervisors
Jed Long
Yolanda Morbey
<br><br /><hr />
Aranya Iyer is a Master's student at Western University. She uses satellite data to study how birds might use the Earth's magnetic field to travel long distances. She is also a passionate science communicator who has taken to multiple platforms to engage audiences about the natural history mysteries of birds. She is currently the host of Animalogic's "World of Birds" on Youtube and her videos have amassed over two million views over the last year. She is also one of the founders of FREED (Field Research in Ecology and Evolution Diversified) which aims to provide fieldwork opportunities for Indigenous, Black and Racialized undergraduate students.
You can connect with Aranya on LinkedIn: https://www.linkedin.com/in/aranyaiyer/, and on Instagram: https://www.instagram.com/nerdmeetsbird/?hl=en.
View Aranya's work as it appears in the Inspiring Minds Digital Collection: https://ir.lib.uwo.ca/inspiringminds/110/.