Inspiring Minds seeks to broaden awareness and impact of graduate student research, while enhancing transferable skills. Students were challenged to describe their research, scholarship or creative activity in 150 or fewer words to share with our community.
<hr />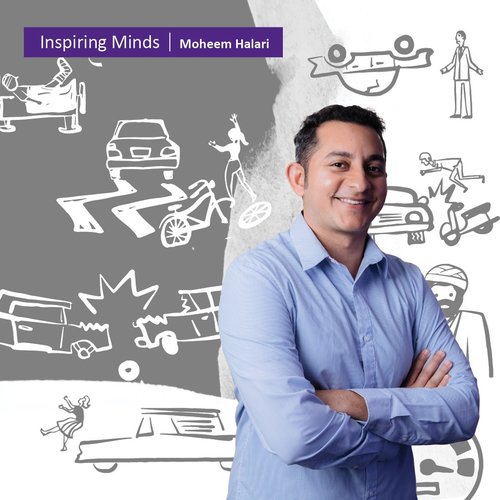 Trauma Patterns Among Pedestrians and Cyclists Involved in a Motor Vehicle Collision
Of the 1.35 million deaths that occur annually worldwide due to motor vehicle collisions (MVCs), more than half of these involve pedestrians, cyclists, and motorcyclists. In Canada, there is an increasing number of motor vehicle pedestrian (7%) and cyclist (2.5%) collisions compared to previous years. In Ontario, these MVCs involving pedestrian and cyclist deaths are investigated by the Office of the Chief Coroner for Ontario which include autopsies done by pathologists who document the injuries sustained. My research involves collecting injury data from the pathologists' reports and crash data (vehicle type, speed, impact zone, location) from the police report to understand the injury mechanisms. Using this information, I plan on creating a predictive model using machine learning that can be used not only by pathologists to assist coroners and police investigators in collision reconstruction (especially hit and run's), but also provide evidence-based data to emergency or trauma centers for triage.
Moheem Halari
PhD candidate, Pathology and Laboratory Medicine
Schulich School of Medicine & Dentistry - Western University
Supervisor
Michael J. Shkrum

<br><br /><hr />
Moheem is a medical graduate with a passion for research in Forensic Medicine. He has a Master's degree in Forensic Medical Sciences from Queen Mary University of London and a Diploma in Forensic Human Identification offered by the Faculty of Forensic and Legal Medicine at the Royal College of Physicians of London, UK. Moheem was invited by the International Committee of the Red Cross in Geneva to attend the Management of the Dead in Armed Conflicts and Catastrophes course and also completed the Global Clinical Scholars Research Training Program at Harvard Medical School. He is currently in his fourth-year PhD in the Department of Pathology and Laboratory Medicine and studies injury patterns in pedestrian and cyclists fatalities involved in motor vehicle collisions in Ontario under Dr. Michael Shkrum (a forensic pathologist, at Western University and Director of Motor Vehicle Safety (MOVES) Research Team) funded by Transport Canada.
You can connect with Moheem on LinkedIn: https://ca.linkedin.com/in/moheem-halari-89547953 or email: mhalari@uwo.ca | drmoheem@gmail.com.
View Moheem's work as it appears in the Inspiring Minds Digital Collection: https://ir.lib.uwo.ca/inspiringminds/341/