Inspiring Minds seeks to broaden awareness and impact of graduate student research, while enhancing transferable skills. Students were challenged to describe their research, scholarship or creative activity in 150 or fewer words to share with our community.
<hr />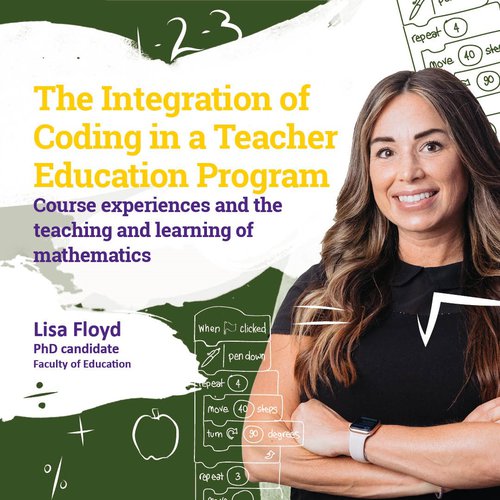 <br><br><br>
Prior to beginning my PhD at Western University, I taught high school computer science, mathematics and science and was inspired to support K-12 teachers with cultivating the type of thinking I observed in my computer science classes. I have since been an advocate for introducing students and teachers across Canada to the world of coding. My passion for coding and mathematics education and my experience as an instructor in Western's Faculty of Education Undergraduate Program, led me to pursue a PhD. I wish to understand how our future teachers perceive coding in teaching and learning about mathematics. I am focusing on their experiences in a course called Computational Modelling in Mathematics and Science Education, which includes hands-on activities, opportunities to teach their new skills to students in the community, and engagement in reflective and reflexive practice.
Lisa Floyd
PhD candidate
Faculty of Education - Western University
Supervisor
George Gadanidis
<br><br /><hr />
Lisa Anne Floyd is a PhD Candidate with a focus on coding in teacher education at Western University, where she also teaches in the Bachelor of Education program. She has received several teaching and research provincial and national awards, and has published in academic journals, book chapters, and professional blogs. Lisa Anne has many years of experience teaching high school mathematics, science, and computer science. She loves to work with school districts and share her passion for coding, computational thinking, and physical computing at educational conferences across North America.
You can connect with Lisa via her website at http://lisaannefloyd.com/about.
View Lisa's work as it appears in the Inspiring Minds Digital Collection: https://ir.lib.uwo.ca/inspiringminds/26/.