Inspiring Minds seeks to broaden awareness and impact of graduate student research, while enhancing transferable skills. Students were challenged to describe their research, scholarship or creative activity in 150 or fewer words to share with our community.
<hr>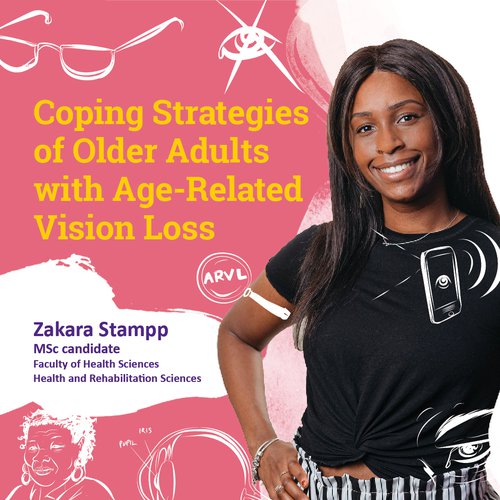 My research project focuses on the coping strategies used by older adults with ARVL to support their engagement in meaningful activity. Employing a narrative methodological approach, I aim to capture the stories of five older adults as they share their experiences with ARVL and what coping strategies they use to maintain their involvement in the activities they love. This research project was inspired by my grandmother as she faced ARVL head on. Despite the lack of resources, I watched her quickly adapt to maintain her participation in her favourite activities. She had no medical guidance in doing so, which was odd considering the prevalence of ARVL and the negative effects associated with loss of activity. In the end, I hope that older adults with ARVL find comfort in the shared stories of others in a similar situation and that coping mechanisms are focused on for improved ARVL rehabilitation strategies. 
Zakara Stampp
MSc candidate, Health and Rehabilitation Sciences
Faculty of Health Sciences - Western University
Supervisor
Colleen McGrath
<br /><br /><hr />


Zakara Stampp is currently in the second year of her Master's degree in Health and Rehabilitation Sciences with a focus in Health and Aging. She completed her undergraduate degree at the University of Ottawa in Honours Psychology (French Immersion). Zakara enjoys lifting weights, hot yoga, and reading. Her research interests surround mental health and coping mechanisms, rehabilitation, age-related vision loss, and examining human behaviour in various environments. This study was inspired by the experiences shared between Zakara and her grandmother, who faced age-related vision loss head on and struggled to find effective coping mechanisms to continue her favourite activities. Zakara would like to dedicate this research to her grandmother, Thelma Joyce Stampp, who recently passed away before the study was completed. Zakara has decided to expand her range of knowledge and will be returning to Western for September 2022 to begin her PhD in Geography.
You can connect with Zakara on LinkedIn: https://www.linkedin.com/in/zakara-stampp-b1b796214/
View Zakara's work as it appears in the Inspiring Minds Digital Collection: https://ir.lib.uwo.ca/inspiringminds/131/