Inspiring Minds seeks to broaden awareness and impact of graduate student research, while enhancing transferable skills. Students were challenged to describe their research, scholarship or creative activity in 150 or fewer words to share with our community.
<hr />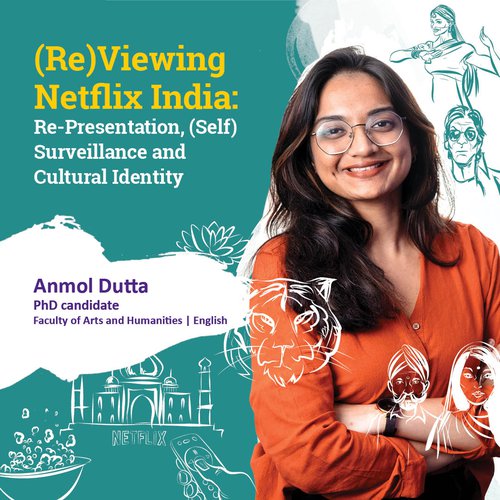 <br>
The Government of India as of February 2021 declared that all OTT platforms in India, including Netflix, will be regulated—analysing the interaction of negotiations of culture with 'protecting sensibilities' in today's India, bringing OTT platforms under the ambit of the government polices representation, primarily for a nationalist propaganda. Becoming the flag bearer of an "amorphous sense of 'Indianness'" (Chadha and Kavoori 131-132) on a global platform, Netflix India navigates a cultural exchange that (re)presents a fabricated reality to the Indian diaspora in Canada as it becomes "one of the most tangible links to the homeland" (Bhatia 5), while (re)imagining the materiality of India for the foreign eye. My project will complicate the notion of a fluid world: of art transcending borders, by probing into the problematics of this "new transnational culture" (Bhabha 4).
Anmol Dutta
PhD candidate, English
Faculty of Arts and Humanities - Western University
Supervisor
Nandi Bhatia
<br /><br/><hr />
Anmol Dutta is a PhD student in English Studies at Western University. A former Shastri Fellow, her doctoral research explores the transnational implications of Netflix India's dialogue between culture, re-presentation and 'protecting sensibilities' in 2020s' India. As Senior Editor at Re:Locations Journal, University of Toronto's peer-reviewed graduate journal, she is co-recipient of the 2021-22 Asian Institute Richard Charles Lee Student Leadership Award. Anmol has formerly served as elected co-chair of the Anti-Racism Committee and co-chair of the Equity Committee within the Society of Graduate Students (SOGS), the graduate student government at Western. Having published academic essays in several research compilations along with presenting at various conferences, she has also written for The Conversation Canada and Film Companion India.
You can connect with Anmol on LinkedIn: https://www.linkedin.com/in/anmol-dutta-48a426195/
View Anmol's work as it appears in the Inspiring Minds Digital Collection: https://ir.lib.uwo.ca/inspiringminds/125/