Inspiring Minds seeks to broaden awareness and impact of graduate student research, while enhancing transferable skills. Students were challenged to describe their research, scholarship or creative activity in 150 or fewer words to share with our community.
<hr />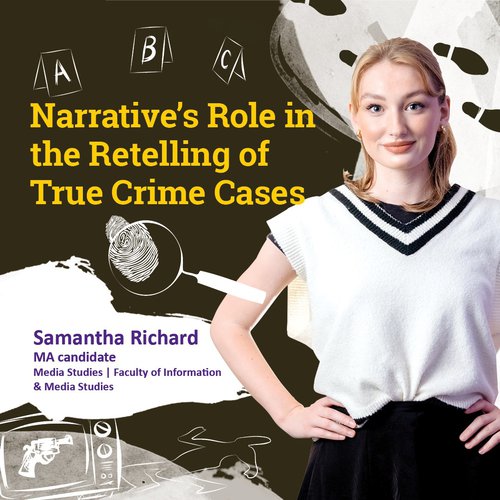 <br><br><br>
Every story has a beginning, a middle, and an end – a narrative. My research investigates the role of narrative in the retelling of true crime cases. In particular, I examine narrative's role in the case of Atif Rafay and Sebastian Burns, two young males from Vancouver who were convicted of murdering the Rafay family in 1994. I examine the function of narrative in this case through two contrasting perspectives: that of the reporters and editors writing for the Vancouver Sun newspaper, and the perspective of the producers of the timely Netflix documentary series, "The Confession Tapes." Both outlets employ starkly different approaches in retelling the details of the Burns-Rafay case to the public. My goal is to illuminate the ways in which the structure of these narratives may have had real-life effects for the accused in the wider system of justice.
Samantha Richard
MA candidate, Media Studies
Faculty of Information and Media Studies - Western University
Supervisor
Romayne Smith Fullerton
<br><br><br /><hr />
Samantha graduated with her Master of Arts in Media Studies from the Faculty of Information and Media Studies at Western University in 2021. She received her Honours BA in Media, Information, and Technoculture from Western in 2020. Her research interests include: the intersectionality of disgust, morality, and the law; policing and incarceration and its ties to race, class, and gender; and the genre of true crime stories. Outside of conducting research, she works as a Communications Coordinator with the Centre for Research and Education on Violence Against Women & Children. In addition to the invaluable contribution of her supervisor, Romayne Smith Fullerton, Samantha would also like to acknowledge the assistance of professor Daniel Robinson, whose mentorship was a critical influence on the planning, writing, and editing of her independent research project.
You can connect with Samantha on LinkedIn: https://www.linkedin.com/in/samantha-richard and via email: srich8@uwo.ca.
View Samantha's work as it appears in the Inspiring Minds Digital Collection: https://ir.lib.uwo.ca/inspiringminds/122/