Inspiring Minds seeks to broaden awareness and impact of graduate student research, while enhancing transferable skills. Students were challenged to describe their research, scholarship or creative activity in 150 or fewer words to share with our community.
<hr/>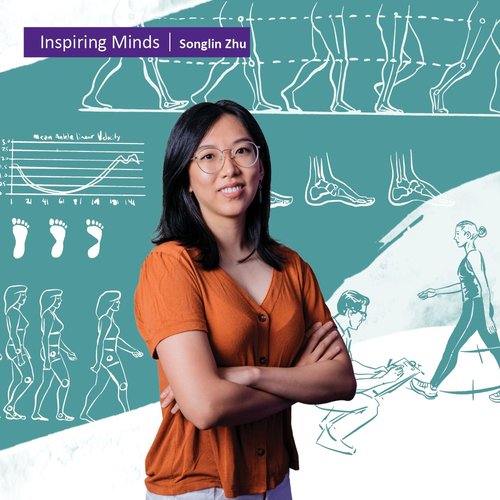 Multi-segment foot model for gait analysis: testing on bowed-legged patients with knee osteoarthritis pre-/post-surgery
Gait analysis using auto-reflective markers attached to the skin assesses how our body moves and functions, and it is important to detecting abnormalities in movements. The foot has been traditionally treated as a single, rigid segment in the history of human gait analysis, leaving motions and loads within the foot unmeasured. This substantially hinders assessment and diagnosis of primary and secondary foot/ankle pathologies. To solve this problem, my study developed a reliable, sensitive multi segment foot model that divides the foot into four functional segments (hindfoot, midfoot, forefoot, toes). Relative motions and joint loads between foot segments are measured and calculated using motion analysis software. This model's clinical feasibility has also been supported in bowed-legged patients with knee osteoarthritis and undergoing a corrective knee alignment surgery called high tibial osteotomy (HTO). This clinically friendly foot model can help us better understand foot/ankle pathologies and potentially inform treatments like exercise and orthoses.
Songlin Zhu
MSc candidate, Kinesiology (Musculoskeletal Health Research)
Faculty of Health Sciences - Western University
Supervisor
Thomas Jenkyn

<br/><br/><hr/>
Songlin Zhu is a second-year Master's student in Integrative Biosciences, Kinesiology. She is also a trainee of the Collaborative Specialization in Musculoskeletal Health Research. Born and raised in Guangzhou, China, Songlin came to Canada by herself at the age of 17 and earned an Honours Bachelor's degree in kinesiology for her interests in human movements and anatomy. Following that, she continues her passion in clinical biomechanics and rehabilitation and is planning to pursue PhD studies in this transdisciplinary field. She enjoys learning and playing all kinds of sports. She prefers to travel around on foot, which always makes her question if she really needs a car in life. She is also a big fan of music, especially R&B, Neo soul and K-pop. Once in a while, she randomly sings and drops song covers for fun or upon friends' requests.  
You can connect with Songlin on LinkedIn: linkedin.com/in/songlin-zhu-b5476a17a and the Wolf Orthopaedic Biomechanics Lab: http://www.fowlerkennedy.com/research/wolf-orthopaedic-biomechanics-lab-wobl/
View Songlin's work as it appears in the Inspiring Minds Digital Collection: https://ir.lib.uwo.ca/inspiringminds/340/.