Inspiring Minds seeks to broaden awareness and impact of graduate student research, while enhancing transferable skills. Students were challenged to describe their research, scholarship or creative activity in 150 or fewer words to share with our community.
<hr/>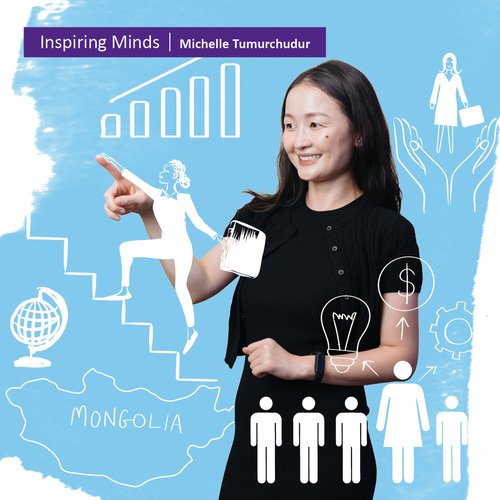 Gender and Entrepreneurship: Levelling the Playing Field for Women Entrepreneurs in Developing Economies
In my role as a mentor at the Women's Business Centre in Mongolia, I observed firsthand the unique challenges faced by women entrepreneurs in developing countries. Issues ranging from limited access to education and material resources to blatant gender discrimination are often compounded by societal problems such as domestic violence and lack of childcare. Intrigued by these observations, I decided to focus my research on the intersection of gender and entrepreneurship. My aim is not only to explore the existing gender disparities in entrepreneurship, but also to uncover potential solutions that could level the playing field for women. My research informs policy decisions to create more supportive regulatory environments, financial incentives, and educational programs that are specifically designed to assist women entrepreneurs. Through my research, I hope to go beyond entrepreneurship – to unlock a wealth of potential that can drive economic growth and social progress all around the world.
Michelle Tumurchudur
PhD candidate, Business Administration
Ivey Business School - Western University
Supervisors
Simon Parker
Janice Byrne
<br/><hr/>
Michelle is a PhD student in Entrepreneurship at Western University's Ivey Business School. Her research focus is on Gender on Entrepreneurship, specifically women's entrepreneurship in developing nations. Through her research, she aims to understand how strategies, resources, and support systems from different economic, cultural, and social contexts interact with gender to facilitate or hinder entrepreneurial activities. The insights from her research work will not only contribute to theories in gender and entrepreneurship, but also inform policy decisions to create a more inclusive business environment for all. 

You can connect with Michelle by email: gtumurch@uwo.ca, and on Linkedin: https://www.linkedin.com/in/goomaral-michelle-a54a9776/.
View Michelle's work as it appears in the Inspiring Minds Digital Collection:  https://ir.lib.uwo.ca/inspiringminds/437/.