Inspiring Minds seeks to broaden awareness and impact of graduate student research, while enhancing transferable skills. Students were challenged to describe their research, scholarship or creative activity in 150 or fewer words to share with our community.
<hr/>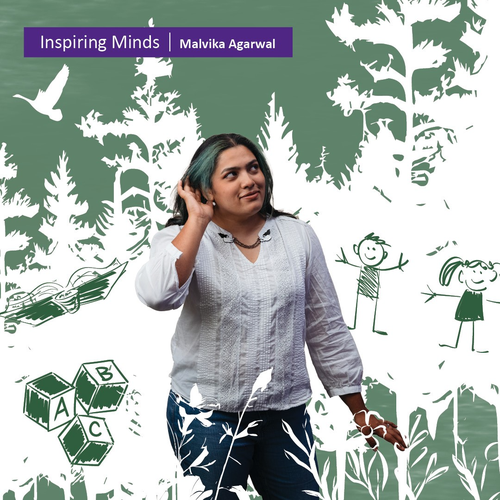 <br/>
Exploring Ecological Questions in Early Childhood Education through Artistic and Sonic Approaches
In early childhood education, there's a growing trend of integrating arts to explore ecological questions. I investigate the use of sonic arts, a move beyond visual stimuli. This immersive approach addresses complex socio-political issues in Canada by engaging multiple senses. Soundscapes crafted for this purpose bring educational moments to life, prompting educators to reflect on their practices and address topics like land ownership, access, stewardship, and equity, diversity, and inclusion (EDI). This artistic exploration enriches early childhood education, offering fresh insights for documentation. By incorporating sound, educators embark on a journey of discovery, uncovering hidden nuances that optimize learning experiences. This integration of art and sound reshapes pedagogical practices, deepening our understanding of early childhood education's intricate connections.
Malvika Agarwal
PhD candidate, Education Studies
Faculty of Education - Western University
Supervisor
Veronica Pacini-Ketchabaw
<br/><hr/>
Malvika Agarwal is a PhD student at Western University, Canada, specializing in curriculum studies and also a contemporary artist with a focus on sounds and digital media. Her work emanates from a determination to resist the proliferation of visual artifacts in early childhood education research, which has led her to explore ecological sound art methodology. Her work leverages everyday technology and interlaces it with artistic practices, aiming to reshape early childhood education in a world increasingly influenced by screens, data, and AI-powered machines.

You can connect with Malvika on the web: www.malu.gg; on X: https://twitter.com/UlamMalu; and on Instagram: https://www.instagram.com/malu.draws/.
View Malvika's work as it appears in the Inspiring Minds Digital Collection:  https://ir.lib.uwo.ca/inspiringminds/463/.