Inspiring Minds seeks to broaden awareness and impact of graduate student research, while enhancing transferable skills. Students were challenged to describe their research, scholarship or creative activity in 150 or fewer words to share with our community.
<hr />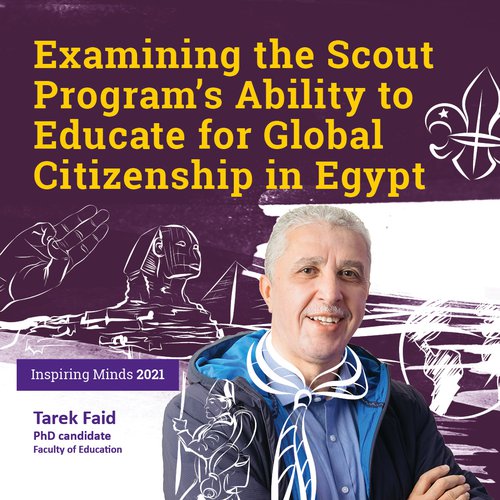 Education—formal or non-formal, plays a vital role in addressing social, political, cultural, and global challenges including tensions, and conflicts that have causes and effects beyond national boundaries. Scouting is a non-formal educational movement with a unique educational method and a large membership of more than 40 million members all-over the world. Such programs seem to be able to play a key role in educating scouts for global citizenship to address UNESCO's goals of education for sustainable development aiming at ensuring equitable quality education and endorse lifelong learning opportunities. Despite the importance of Scouting in the non-formal education field, no research has been conducted to explore its ability to educate for global citizenship. This study investigates the Senior Scouts Curriculum in Egypt to examine its ability to contribute to the development of young people (15-17 years of age) as global citizens.
Tarek M. Faid
PhD candidate
Faculty of Education - Western University
Supervisor
Dr. Isha Decoito
<br /><br/><hr />
Tarek is a researcher and devoted educator with more than 35 years of experience—in both, the formal and non-formal education fields. He believes that a valid education should aim to prepare young people to become active and successful global citizens. Tarek completed his Master of Arts in Education in August 2016 and his Ph. D. in Education, both at Western University. Tarek is trilingual who fluently speaks English, French, and Arabic. His research focuses on global citizenship education as a transformative education that nurtures the values of active care, peace, tolerance, justice, and inclusiveness. Before joining Western University, his professional background included working for highly successful and reputable—formal, non-formal, national, and international—educational institutions (schools, universities, and Non-Governmental Organizations) where he assumed various leadership and executive roles.
You can find and connect with him on LinkedIn.
View Tarek's work as it appears in the Inspiring Minds Digital Collection.