Inspiring Minds seeks to broaden awareness and impact of graduate student research, while enhancing transferable skills. Students were challenged to describe their research, scholarship or creative activity in 150 or fewer words to share with our community.
<hr />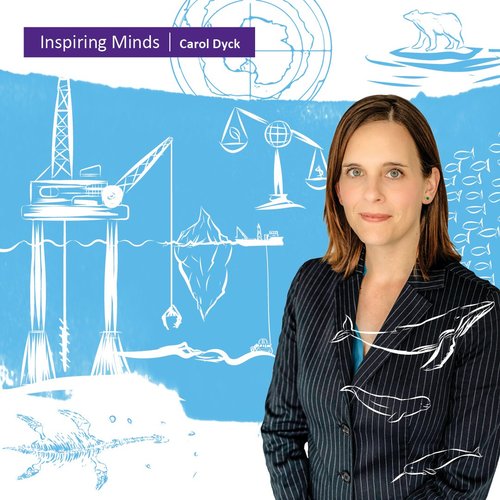 Deep Seabed Mining versus Marine Conservation: Closing High Seas Governance Gaps in the Arctic Ocean
The current push to electrify transportation in response to climate change has sparked growing interest in deep seabed mineral resources. Commercial exploitation is now imminent. Scientists and policy-makers warn that gaps in international law and governance leave highly biodiverse and poorly understood ecosystems unprotected and species at risk of extinction. My research will analyze the Draft Exploitation Regulations of the International Seabed Authority's Mining Code governing deep seabed mining, and their relationship to the forthcoming Biodiversity Beyond National Jurisdiction Agreement. I will focus on the Arctic region, where melting sea ice is rapidly altering the marine environment, opening the area to new economic activity. My geographical approach is intended to contribute to wider discussions regarding the appropriateness of deep seabed mining, and will include policy recommendations to establish high seas marine protected areas in the Central Arctic Ocean.
Carol Dyck
PhD candidate
Faculty of Law - Western University
Supervisors
Elizabeth Steyn
Valerie Oosterveld

<br><br /><hr />
Carol Dyck is currently entering her second year as a doctoral student at Western University in the Faculty of Law. She holds a Bachelor of Arts in International Relations from the University of British Columbia, a Master of Arts in International Environmental Policy from the Middlebury Institute of International Studies in Monterey, California, a Master of Law in Environmental Law from the University of Kent in Canterbury, England, and a Master of Science in Biodiversity, Conservation and Management from Oxford University. Carol is an active community volunteer who has sat on the Board of Directors for three London, Ontario non-profit organizations as well as on the Environmental and Ecological Planning Advisory Committee for the City of London, among other volunteer activities. She has worked as a freelance environmental consultant, who has also run for political office both provincially and federally.
You can connect with Carol on LinkedIn: Carol Dyck; Twitter @CarolDyckGPO; and via email: cdyck22@uwo.ca.
View Carol's work as it appears in the Inspiring Minds Digital Collection: https://ir.lib.uwo.ca/inspiringminds/311/.