Inspiring Minds seeks to broaden awareness and impact of graduate student research, while enhancing transferable skills. Students were challenged to describe their research, scholarship or creative activity in 150 or fewer words to share with our community.
<hr />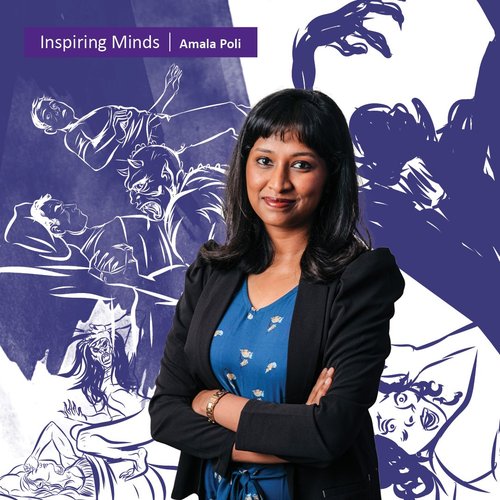 Confounding Sleep: Narrative as Evidence in Sleep Paralysis
Just as you are about to fall asleep, a menacing presence enters your room. You try to scream, but no sound escapes you. You are stuck in terror, unable to move a muscle. Your eyes are locked, watching as it edges closer.
You muster a final surge of energy to escape — now free, you're unsure if you were just dreaming.
This experience of vivid, realistic hallucinations that occur in the twilight state between waking and sleeping is called sleep paralysis. Roughly one in three people experience a form of sleep paralysis at some point in their lives. Scientific description of this phenomenon remains elusive. However, we can begin to decipher the traumatic and gripping affect through literary and visual culture. By proposing a health humanities model that illustrates narrative as a necessary form of evidence, I examine how science and literature are mutually transformative in investigating and demystifying sleep paralysis.
Amala Poli
PhD candidate, English
Faculty of Arts and Humanities - Western University
Supervisor
Joel Faflak


<br /><hr />


Amala Poli is a PhD scholar in English who specializes in Health/ Medical Humanities at Western University. Her doctoral research examines the interdisciplinary implications of the dialogue between literature, psychiatry and neuroscience that has shaped our current understanding of sleep paralysis as a model for future health humanities work. Her research hopes to create a greater awareness of the multiple stakeholders in the health and wellness discourse and is committed to fostering dialogue between the humanities and sciences. Amala is a recipient of the 2023 Emerging Scholar Award for outstanding early-career scholars by Common Ground Research Networks and a winner of the Pradeep Khare Memorial Award in 2021. She is also a writer at Synapsis, a Columbia University-based Health Humanities journal. Her first monograph, Writing the Self in Illness was published by Manipal Universal Press in 2019.
View Amala's work as it appears in the Inspiring Minds Digital Collection: https://ir.lib.uwo.ca/inspiringminds/232/.